COVID-19の被害を受けた芸術・文化団体を支援する「One Love Project」が始動!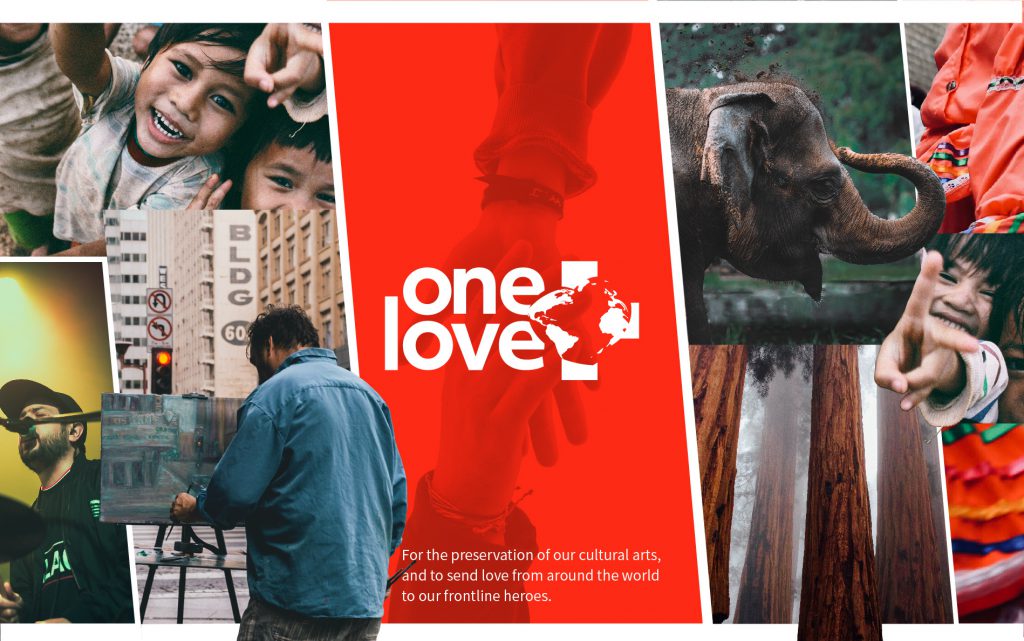 Followed by English translation
Freewillのクラウドファンディングサービス「SPIN」上で初の募金プロジェクト
2020年5月18日、Freewillと提携する、NPO法人SPINプロジェクトが、Freewillのオリジナルサービス「SPIN」上で初となる募金プロジェクト「One Love Project」を立ち上げ、世界各国から支援・寄付金の募集を開始しました。
当プロジェクトは、新型コロナウイルス (以下、COVID-19)の影響により、支援を必要としている世界各国の文化・伝統団体と、国際医療機関に支援を届けることを目的としたもの。
COVID-19の感染拡大防止対策により、世界規模で経済が停止する今、観光客の激減などを背景に、世界各地の文化セクターは大変厳しい状況に置かれています。「One Love Project」では、こうした存続の危機にある文化の灯を次世代に受け継ぐべく始動しました。緊急保全プロジェクトとして、Freewillは「SPIN」プラットフォームをシステム利用料無料(決済手数料3.6%)で提供し、運営協力を行ってまいります。
プロジェクトでは、各国の文化の保全に加え、最前線で命をはり、ウイルスの終息のために尽力している医療関係者への支援も喫緊と捉え、集まった寄付金の一部を国際医療機関に届ける予定。
現在、支援先としてタイのゾウ保護団体と、ウクライナの小児科への支援が確定しています。「One Love(世界はひとつ)」の精神のもと、支援を先を拡大すべく、引き続き、各国の団体と提携していきます。
■「One Love Project」概要
名称:One Love Project 
〜文化・芸術の灯に愛をともそう。最前線で命をかける人々へ、世界からの愛を届けよう〜
募集期間:2020年5月18日(月)~2020年12月31日(木)
寄付方式:All-or-Nothing方式
寄付方法:SPIN( https://SPIN-project.org/)にてアカウント登録後、
     クレジットカード・デビットカードにて寄付が可能
手数料:  システム利用料無料(決済手数料3.6%)
寄付先:  日本、中国、タイ、ロシア、アメリカ、スウェーデンなど
      各国で支援を必要とする文化団体
【決定している支援先】
・Thai Elephant Alliance Association(タイ)
・Children's Home #2 For Children with Central Nervous System and Psychic Disorders
(ウクライナ)
・国際医療機関
目標金額:総額1,000万円
各支援先の目標設定額を超過した寄付金からNPO法人SPINプロジェクトが必要とする最低限の運営費用を差し引いた金額を、最前線で働く医療関係者の皆様に届けるべく国際医療機関に寄付いたします。
主催: NPO法人SPINプロジェクト One Love Project推進部
■クラウドファンディングサービス「SPIN」について
寄付金を募る「SPIN」は、日英翻訳機能がついたグローバルクラウドファンディングサービス。ブロックチェーン技術などの適用により、寄付金の流れが支援者に明確に「見える化」されています。通常、「SPIN」では、一般も自由にプロジェクトを立ち上げることができますが、今回は当社とNPO法人SPINプロジェクトが協働して寄付金を集め、支援を必要としている各国の団体にスムーズに資金を届けます。
■NPO法人SPINプロジェクトについて
2019年設立。貧困地域の経済発展を支援。世界中の貧困地域に生まれた子ども達を対象に、主にスポーツを通じて社会教育や能力開発活動をサポートを実施。子ども達が潜在的能力を発揮して成長し、世界中で活躍できるような環境の構築を目指しています。
【報道関係お問合わせ先】
株式会社Freewill 広報事務局 白木 賀南子(しらき かなこ)
〒107-0061 東京都港区北青山一丁目4-5 VORT青山一丁目Dual's 301
TEL:03-6721-1840
Mail:k-shiraki@free-will.co
---
Announcing the start of our One Love Project which supports arts and cultural organizations affected by Covid-19!
Freewill's crowdfunding service SPIN's first fundraising project 
On 18 May 2020, in partnership with Freewill, Inc., the SPIN Project NPO launched its first story-based crowdfunding campaign, the One Love Project, which aims to gather support from around the world for important causes.  
To contact SPIN Project NPO about the One Love Project, please email onelove@spin-project.org. 
This project aims to support the cultures, traditions and values of various countries that are affected by the Covid-19 pandemic as well as the International medical organizations.
Covid-19 has directly and indirectly affected multiple aspects of our lives. The pandemic has greatly impacted economies and societies around the world, causing our treasured cultures, traditions and values to be at risk of disappearing due to the lack of patronage. We believe that it is important to ensure the continuity of our arts and cultural heritages that are essential to humanity. Freewill is cooperating with SPIN Project NPO such that there will be no platform service fees for users (although 3.6% will be deducted from each transaction as a settlement fee).
In support of the medical staff risking their lives on the frontlines of the battle against Covid-19, the One Love Project will also direct a portion of the funds raised towards the International medical organizations.
Currently, the confirmed recipients of the donations are a Thai elephant protection organization and a children's home in Ukraine. Over the next few months, we intend to spread the One Love spirit and partner with more organizations around the world to deliver aid to those who need it.
One Love Project Overview 
・Name: One Love Project ~To keep the light of our cultural arts shining brightly for future generations, and to send love from around the world to our frontline heroes.~
・Project duration: May 18, 2020 (Monday) to December 31, 2020 (Thursday) 
・Donation method: by credit card or debit card after registering account at SPIN (https://spin-project.org/)
・Transaction fee: There will be no service fee for using the platform (although 3.6% of the total amount of donations amassed will be deducted as a settlement fee)*
・Recipients of donations: Organizations in need of aid from various countries such as Japan, China, Thailand, Russia, America, Sweden etc. Confirmed recipients are: The Thai Elephant Alliance Association from Thailand, Children's Home #2 For Children with Central Nervous System and Psychic Disorders from Ukraine, and the International medical organizations.
・Target donation amount: 10 million Japanese yen. If the total amount of donations collected exceed the target amount per project, SPIN Project NPO will deduct the bare minimum amount to sustain operations from the surplus and the remainder will go towards the International Red Cross to be donated to medical professionals fighting Covid-19.
Organized by: SPIN Project NPO's One Love Project Promotion Department
[About the crowdfunding service SPIN]
SPIN is a global crowdfunding service that is equipped with a Japanese-English translation function. SPIN uses blockchain technology that ensures maximum transparency with regards to how, where and for whom donations are used. Typically on SPIN, users are able to decide on the details of their projects but for the One Love Project that is conducted in partnership with Freewill, Freewill will be sending the donations to the organizations which need them in order to ensure that it reaches them in a timely manner.
[About SPIN Project NPO]
Established in 2019, SPIN Project aims to support the economic development of impoverished areas. Projects on SPIN are focused on supporting children from impoverished regions around the world through providing them a primarily sports-centered education and opportunities to develop their talents. SPIN Project hopes to provide these children with an environment for them to flourish and grow to be able to contribute to the world. 
[For PR Enquiries]
Freewill Inc. Public Relations Office SHIRAKI Kanako
VORT Aoyama 1-Chome Dual's 301
1-4-5 Kita-Aoyama, Minato City, Tokyo, Japan 〒107-0061
TEL: 03-6721-1840
Email: k-shiraki@free-will.co